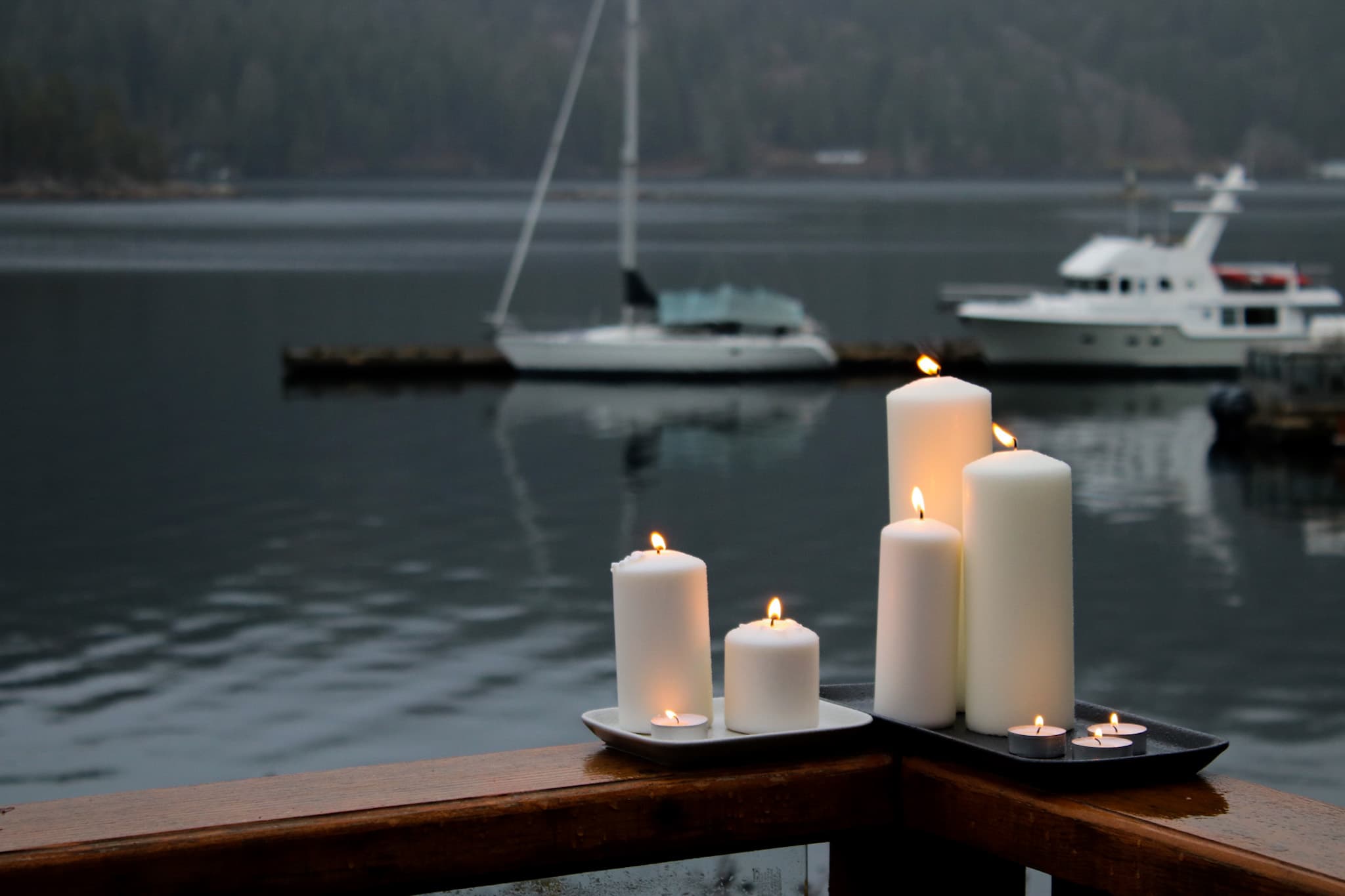 On the darkest day of 2021, I had the honour and delight of officiating a custom crafted handfasting ceremony on the sweet spot between forest and the ocean's edge; traditional unceded territory of the shíshálh Nation, today known as Egmont, BC.
Winter Solstice and Scottish ancestry was the inspiration for the ritual and personal meaning was woven throughout.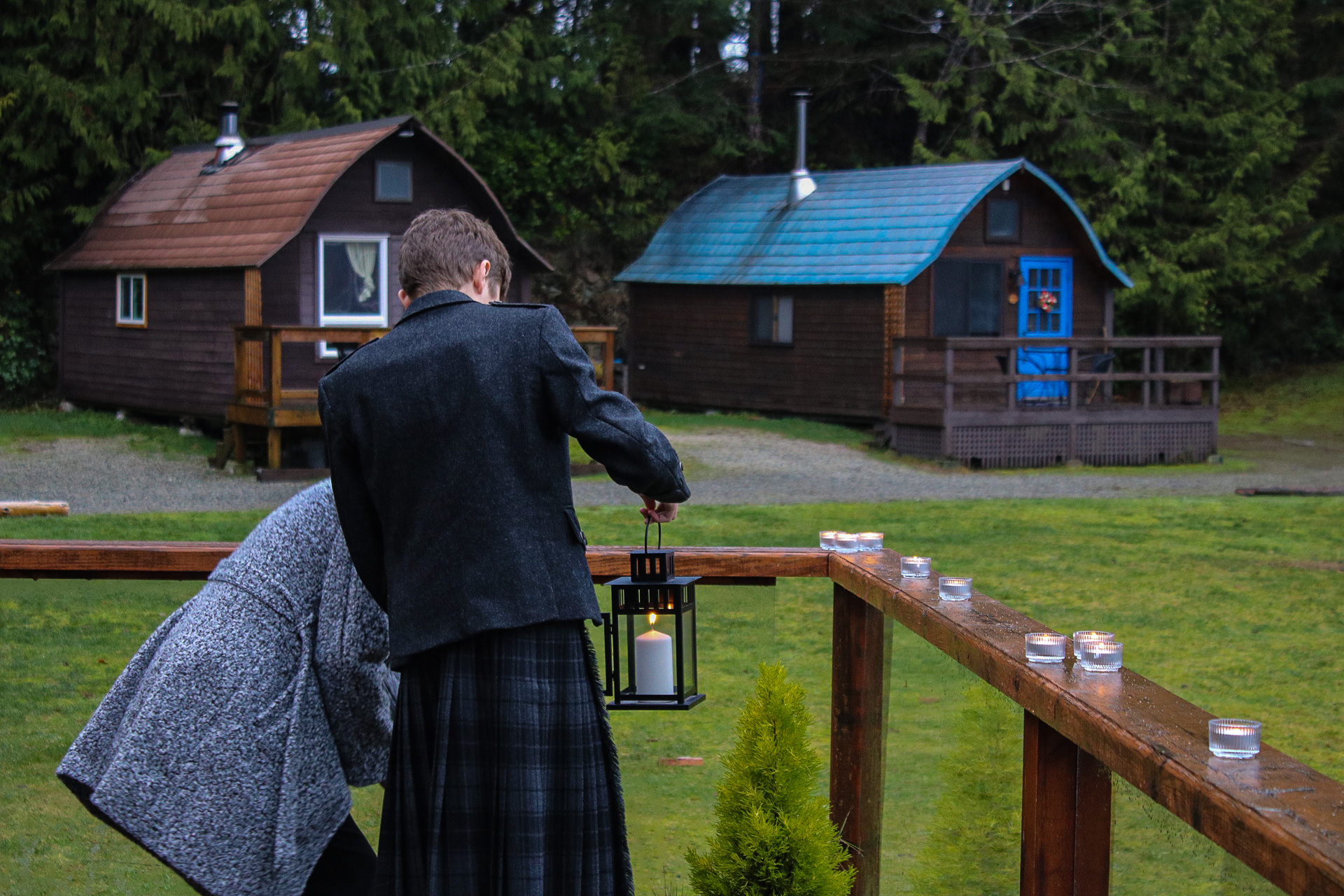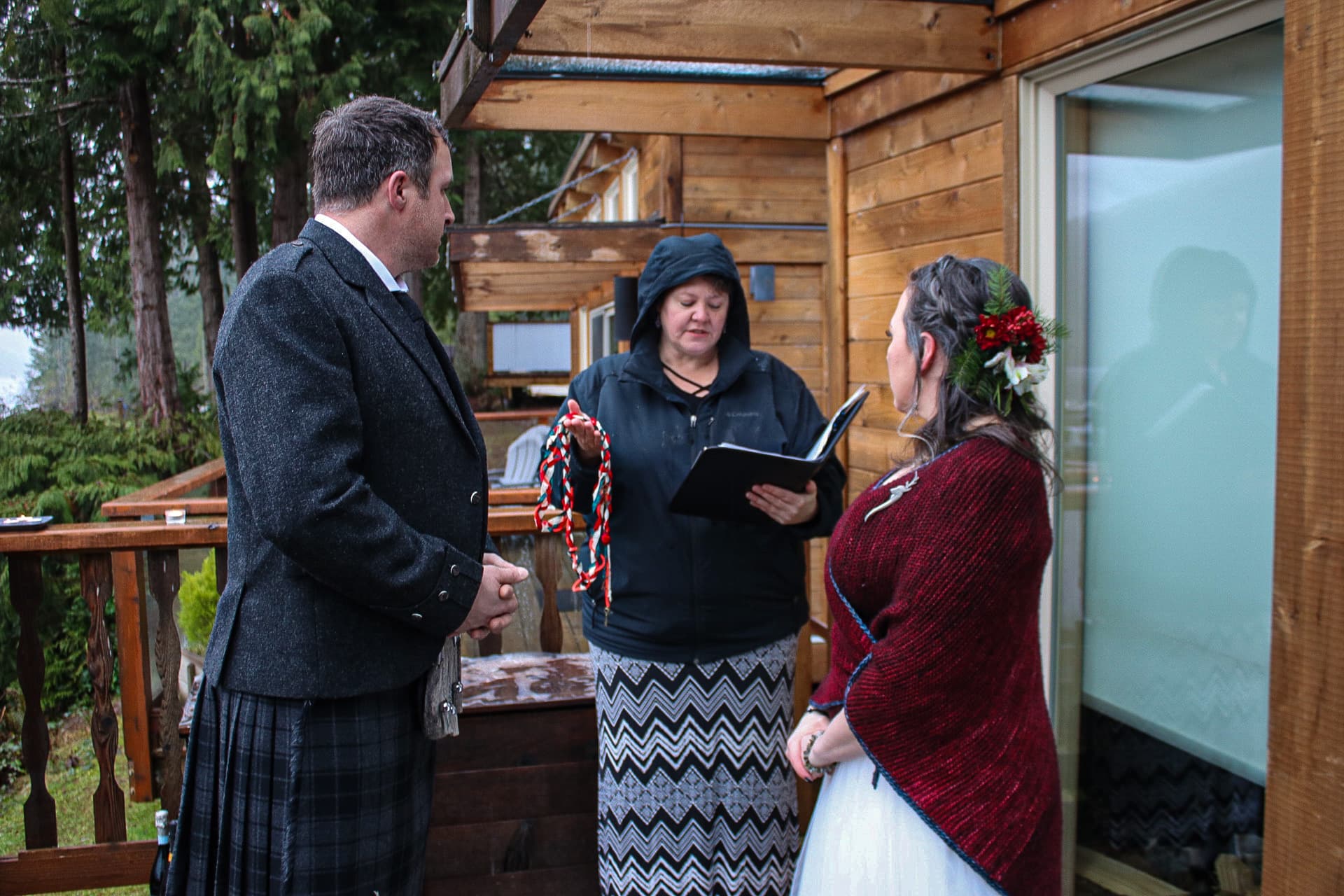 Kilts were donned, the quaich was raised, the whisky drunk, the bride's hiking boots paid tribute to their love of the outdoors.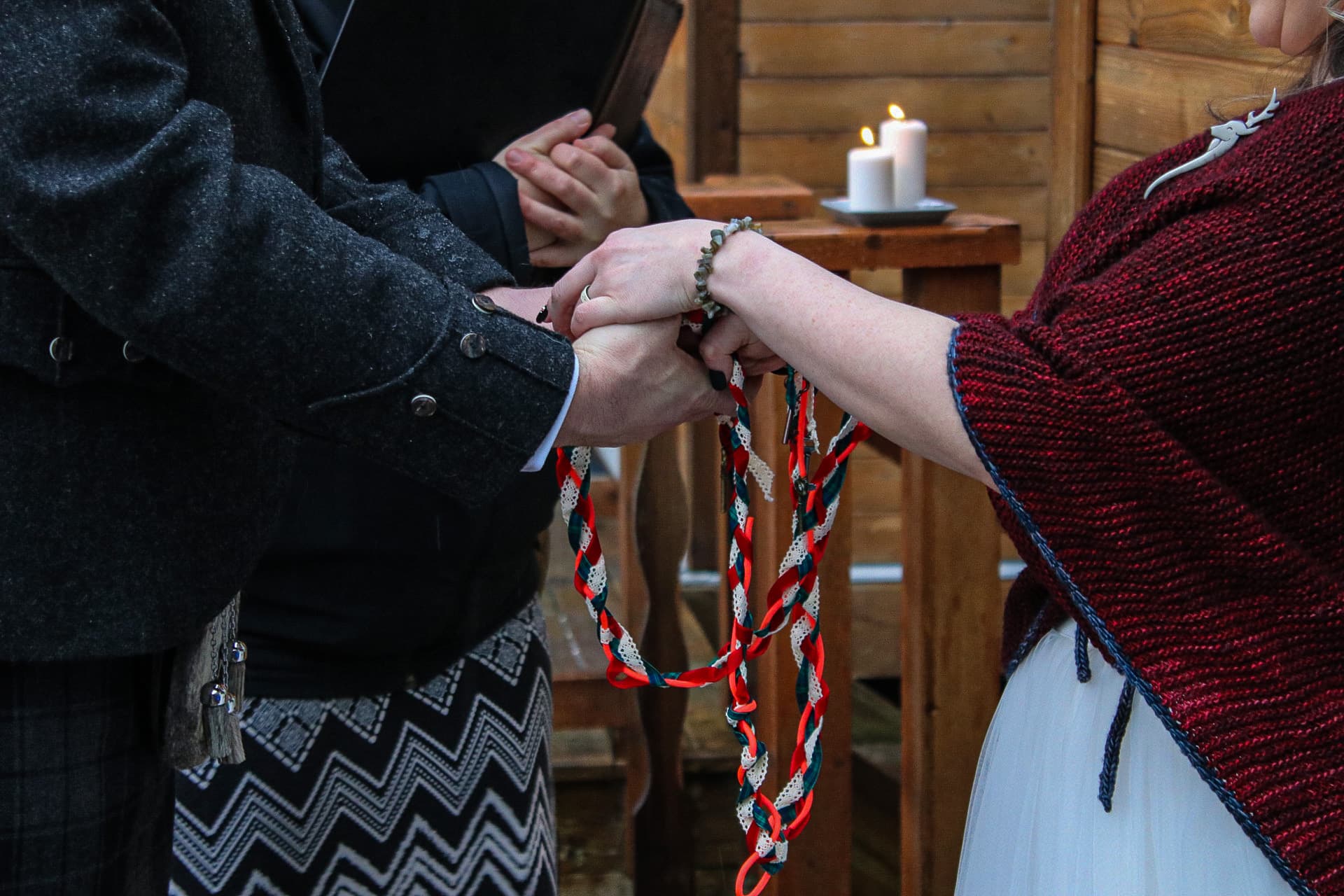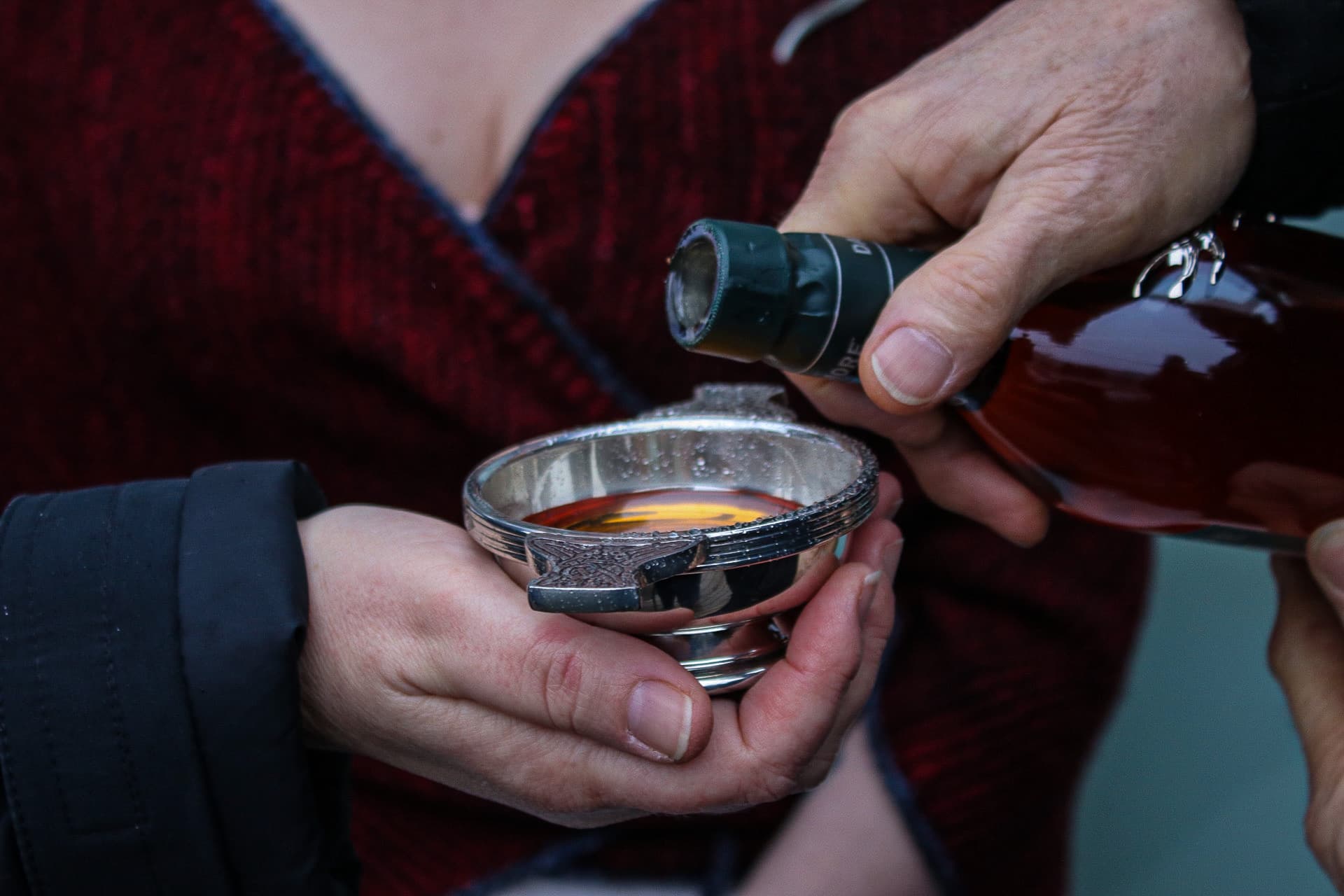 The day was deeply intimate and reflective of who they are both as individuals and as a couple.  Laughter swirled around us intermingling with frozen rain and dreams for their future.
Thank you so very much J & J for the honour of being a part of your ceremony, wishing you a lifetime of soulful connection, good health and laughter in your wake! 
*Photo Credit:  Trinity Goodsell
As an ordained metaphysical minister, I help people reconnect with their spirit.  Remembering, embodying and expressing their truest selves while harnessing the influence of our everyday thoughts.  As well as crafting personalized rituals and ceremony, specifically, Weddings With Soul.
Spirituality, individuality, self-expression and creativity are some of my top core values, which is why I take such a delight in co-creating customized weddings.
I know what it's like to have a unique sense of spirituality (one that is not neatly compartmentalized or often misunderstood) and what it's like to have a gaping hole in family culture or traditions.  Which is why I am so thrilled when a couple opts to work with me in designing their Wedding With Soul!
When a couple first reaches out to me, we arrange a fifteen minute consultation so they can get a sense of who I am, what I offer, and what makes my services unique.  After they've had a chance to get to know me, they have ample time to confer and contemplate without any pressure.  In fact, follow up is entirely up to them, ensuring that there is no obligation. 
Should they be interested in working with me, we then arrange an intake interview, which can last anywhere from 30 – 60 minutes.  During this time, I gather all the information necessary for Vital Statistics, so that there is peace of mind knowing that all the required information is readily on-hand for the big day.  There is no chasing anyone down trying to figure out what a biological parent's middle name or birthplace is. 
Then we explore the seven pillars of ceremony, and the energetic themes within each.  We begin exploring possibilities, while including the itty-bitty details, and an imaginative brainstorming session is facilitated. 
Each partner is given the time, the space, and the right questions, to begin understanding what is important to them… because your love is unique, and your wedding should represent the journey the two of you have walked together. 
Often, it is the special components of the ceremony that make it deeply individual.  This is where, together, we explore your wishes, previous daydreams, personal lineage and spiritual customs.  Plus, we are free to embrace imagination and design something profoundly reflective of you.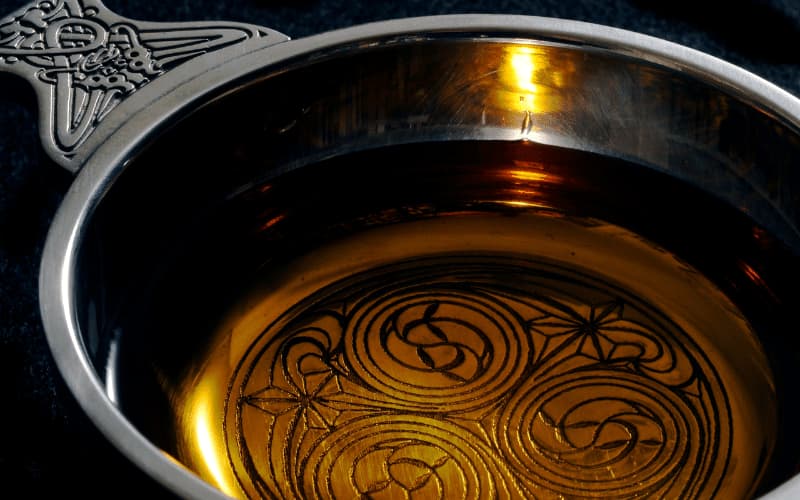 A two handled cup, the quaich is a Scottish tradition symbolizing your commitment to share everything in life.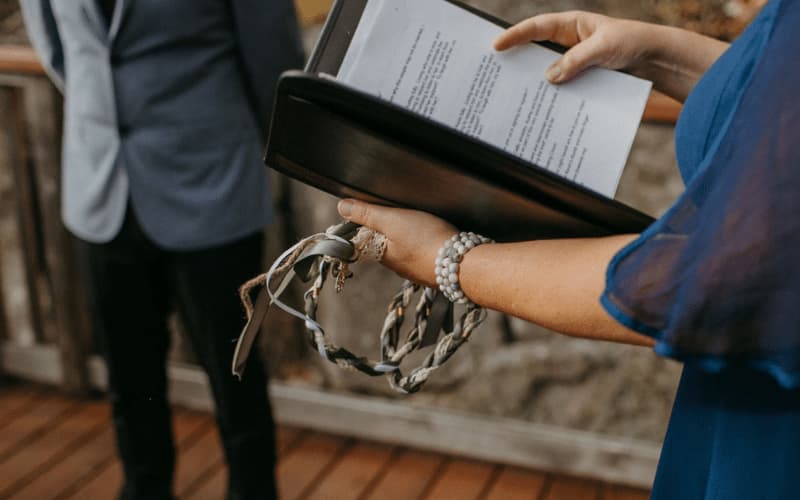 Photo by Hannah Stepaniuk
Handfasting
Handfasting is one of the most ancient and best-known wedding rituals, in fact, it is how the symbolism of "tying the knot" came to be.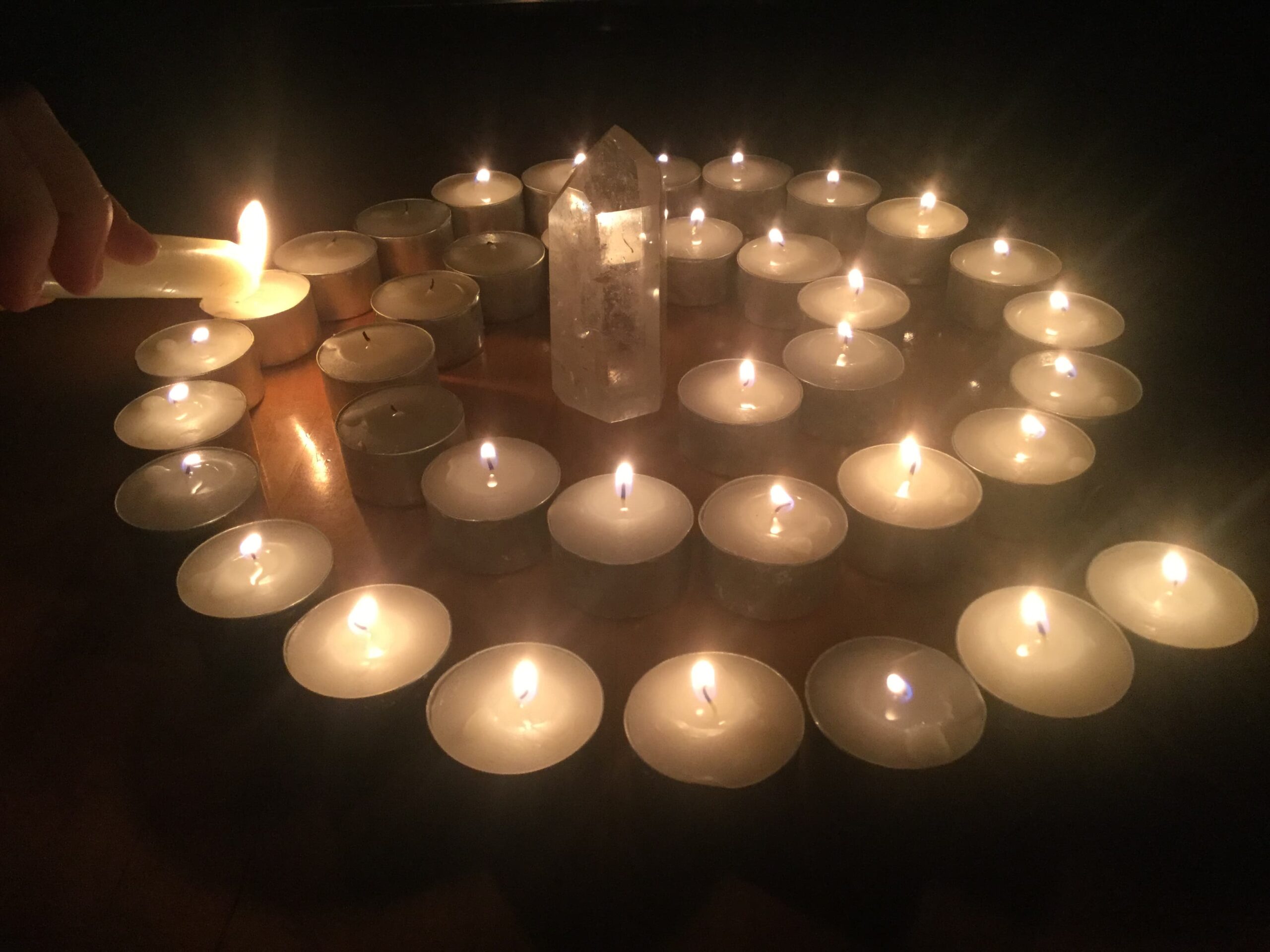 Photo by Trinity Goodsell 
Inspiration is Endless
Bound only by the limits of imagination, inspiration can be found anywhere, whether making an ode to the location you have selected, even the reasoning of the date you selected.
Considering Your Special Day?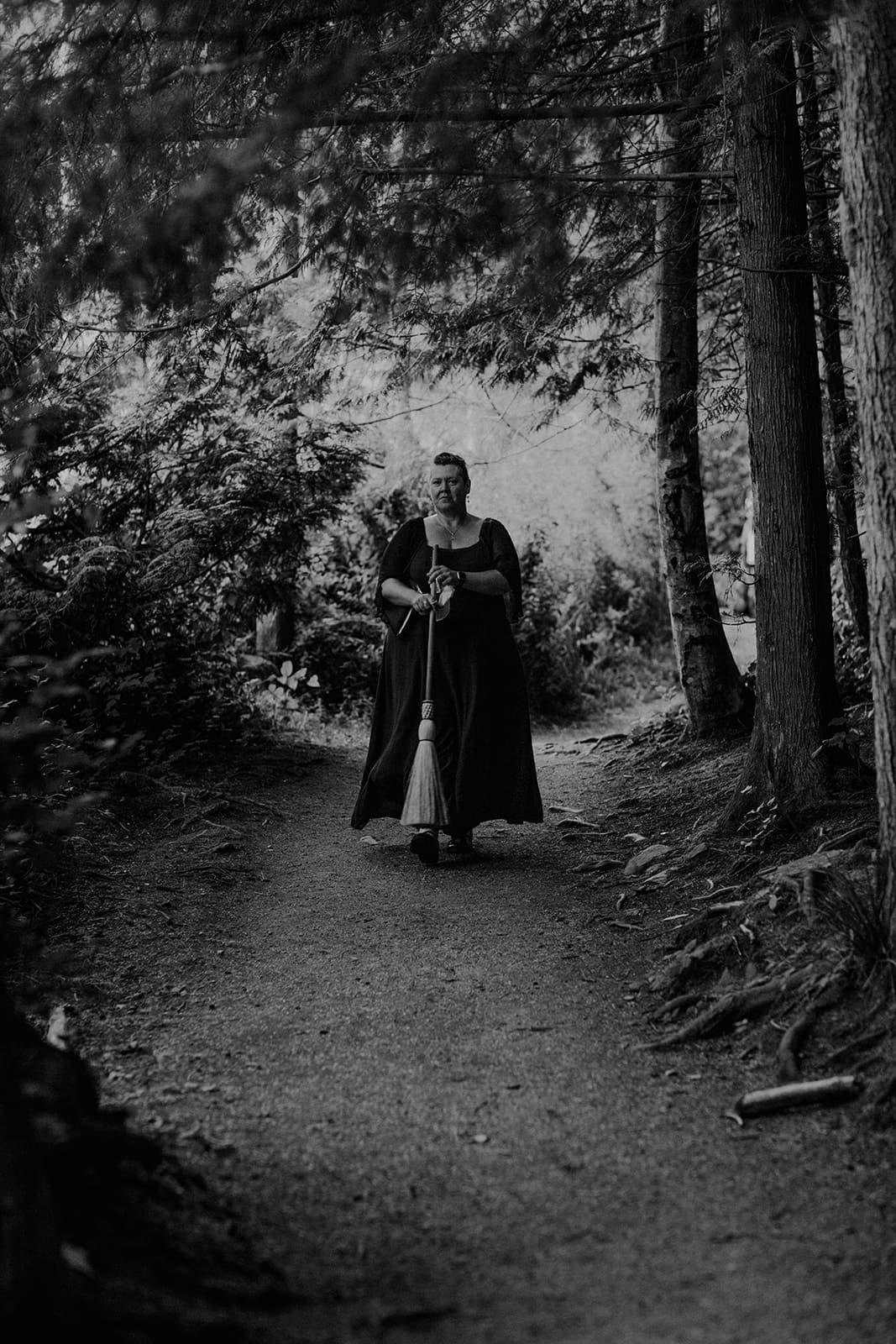 Don't settle for a generic ceremony that you've sat through at every other wedding you've attended!
Weave components of your love story throughout your ritual.
Incorporate elements of your spirituality; Magick is sure to be in the Air!
Embrace inspiration and imagination. 
Your love is one of a kind…
Your ceremony should be too!