Krystin Clark didn't set out to write a book.
She simply embarked on a curious experiment she dubbed, 'The Grateful Jar Project'.
The premise was simple.
Would life be any different if she committed to focusing on gratitude every single day, for a year, no matter what?
Having participated in various means of gratitude practices over the years, Clark knew the benefits but recognized the limitations.
"My practice was like a student driver learning to drive a standard transmission. It starts out with great hope and gusto, followed by may awkward seizing lunges and the inevitable defeat of the embarassing stall"
READ MORE...
On Winter Solstice, December 21, 2015, Clark committed to one year of finding three things from each day she was grateful for. Every day for one whole year, she would write own three things she was grateful for, and place the paper in her Grateful Jar. Why Winter Solstice? She saw her commitment to The Grateful Jar Project as her own personal investment in the return of the light amid the annual descent into darkness. 
Clark was not a "typical writer." (Whatever that is.) She was simply a woman on a soulful journey with a jar. But having shared her experiment amongst her peers on social media, and repeatedly receiving enthusiastic feedback about her writing, she started to realize, "this is a book!" 
The Grateful Jar Project doesn't philosophize an attitude of gratitude. Moving beyond theory, it vulnerably demonstrates the navigation of a painful year; a year that included the author's long-term employment abruptly coming to an end, the fallout from some questionable personal choices, and being caught in the rental housing crisis for six months. The reader joins Clark and her Little Roommates (affectionately dubbed the Ocean of Estrogen) in a turbulent (and sometimes hilarious) year of dramatic change and profound redirection.
The Grateful Jar Project launched on September 18, 2018 and almost immediately became a best seller in several categories on Amazon. 
The Grateful Jar Project is also available at: 
Eco Freako in the heart of Roberts Creek Village,
Talewind Books in Sechelt, and
EarthFair bookstore in Madeira Park.
Thank you very much for supporting your local bookstore.
Available on British Columbia's Sunshine Coast at the following retailers:
Talewind Books
(5494 Trail Ave, Sechelt)
Eco Freako
(In the heart of Roberts Creek Village)
EarthFair Store
(Madeira Park)
Thank you for supporting your local book store!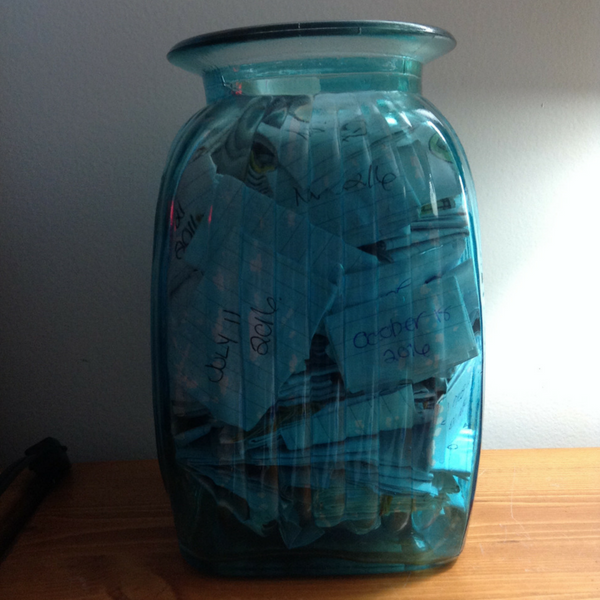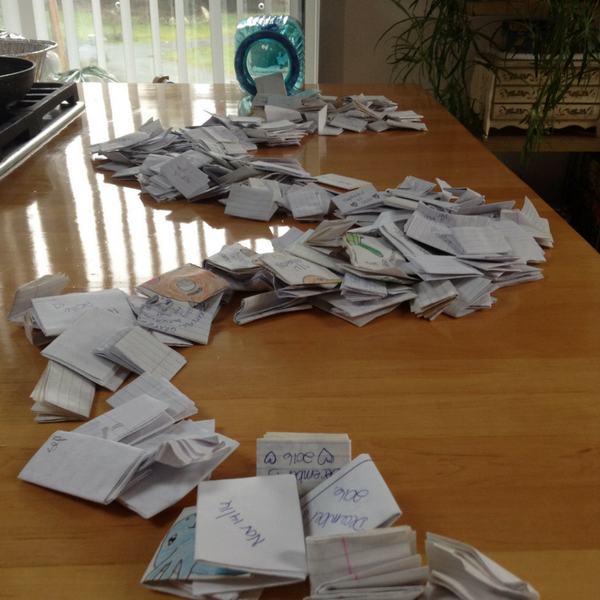 "Krystin has a way with words that is truly life medicine! Reading The Grateful Jar Project transported me to the wonder that surrounds us all. I love her deep dives into divinity and how she brings everything to life, whether it be a thought, a movement, an unknown whisper, a dog, her Little Roommates, or a jar full of 'gratefuls'."  
~Elizabeth MacLeod
Founder, Wild Woman Enchanted
Author & Illustrator of the Wild Woman Mystery Cards


"Krystin Clark was one of our featured speakers at the LIFT Speaker Series event in Gibsons, British Columbia.  She spoke with passion and clarity, and the audience was inspired both by the authenticity and sparkling delivery of her presentation.  She used wonderful imagery and stories during her talk about how her yearlong practice of gratitude changed her life.  She is a gifted speaker and storyteller, and would be the perfect choice for any event where the intent was to inspire, inform and entertain.  I recommend Krystin highly!"
"Krystin is a dynamic speaker who offers energy, wisdom and a lot of laughs- which is one of the best ways to learn!" 
"Krystin Clark boldly holds the essential banner of gratitude and waves this flag for others to embrace! Her recent presentation to the Women's Connection of Pender Harbour had her audience laughing out loud and created a refreshed awareness of the importance of gratitude in our lives. Her talk was lighthearted, inclusive and heartwarming.   Her book 'The Grateful Jar Project' follows the essential attribute of gratitude in daily life and is a delight to read!"

"After hearing Krystin speak I was inspired to start my own Grateful Jar on the 2018 Winter Solstice.  I am so grateful I heard her speak and that I took up this practice- my world is changing moment by moment and with each passing day!  As I breathe, pause and reflect I become more and more grateful"
"Krystin is a truly mesmerizing speaker! Right from the first word uttered she captivates the audience.  It's not just her talks, it's her total package- her voice, her physical presence and her amazing way with words!" 
"You'll experience Krystin's magic by the magnitude of her light and presence as soon as she walks in the room.
Krystin does not speak to her audience. Instead, through powerful storytelling she invites you on  playful, funny, yet potently intimate journey filled with unexpected twists, deep wisdom and practical insights. Krystin's quick wit will have you laughing out loud and her truth resonating so deeply with your own, you will feel like she is sharing your story alongside hers. And in a very short time, you will walk away with a renewed sense of compassion for yourself and your fellow humans and be truly inspired to take imperfect action in your own life.
I asked Krystin to speak at my event because I knew that her warmth, wisdom and inspiration was the perfect fit to create a sense of deep connection, empowerment and openness for the evening."

Thumpity thump thump…
Thumpity thump thump…
Beats my grateful, grateful heart.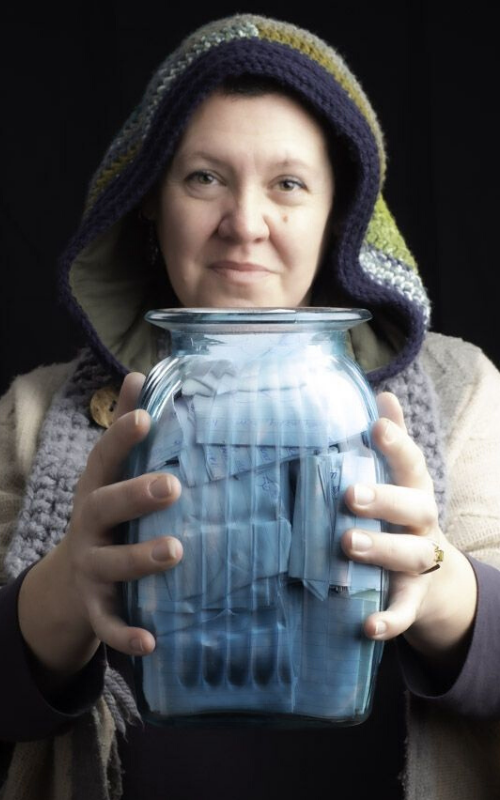 Graduate of Rhodes Wellness College and the Rising Sun Sanctuary, I am a life coach, an ordained metaphysician, proud member of the Canadian International Metaphysical Ministry, astrologer, healer, alchemist, light worker and wayshower.  I've also been an independent parent to my two beautiful vibrant old souls, and my greatest teachers, since 2007.
Without a doubt, my daily gratitude practice has transformed my life in ways I never could have imagined.
What began as a 'curious experiment' quickly proved itself to be so liberating, that it continues to be my most empowered daily ritual, even seven years later.
Not only have I reduced my own stress, anxiety and depression, I have mastered the art of appreciation, and shifted a simple practice into profound mindfulness.
"Our words have power... that's why it's called spelling!"