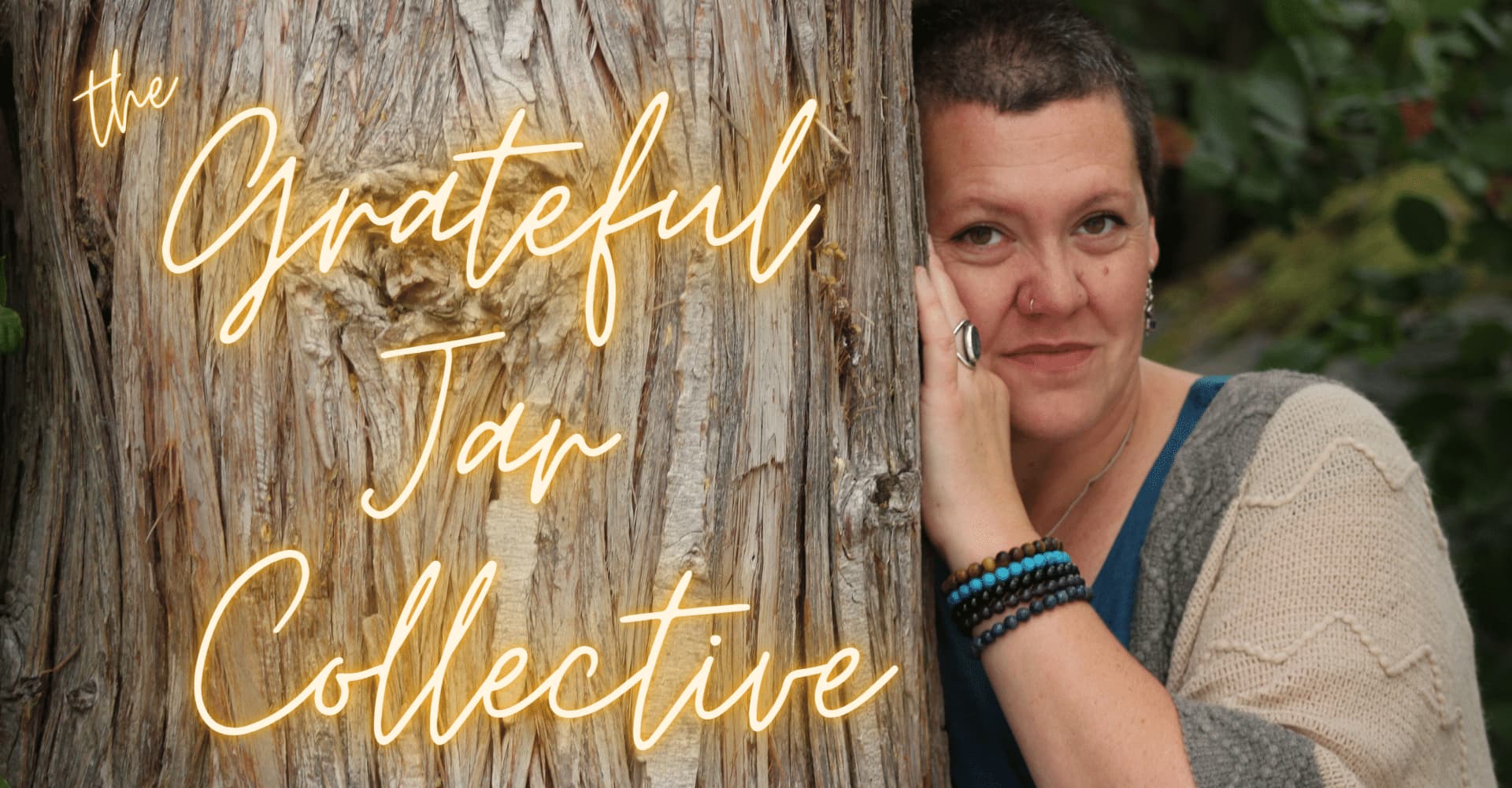 (How's that for an understatement?)
Does it feel like the state of the world is slowly shattering your heart into a thousand painful pieces?
Just when you think it can't get any worse, a new unexpected development 
reduces those shattered pieces to ground glass.
Your bruised spirit need soulful nourishment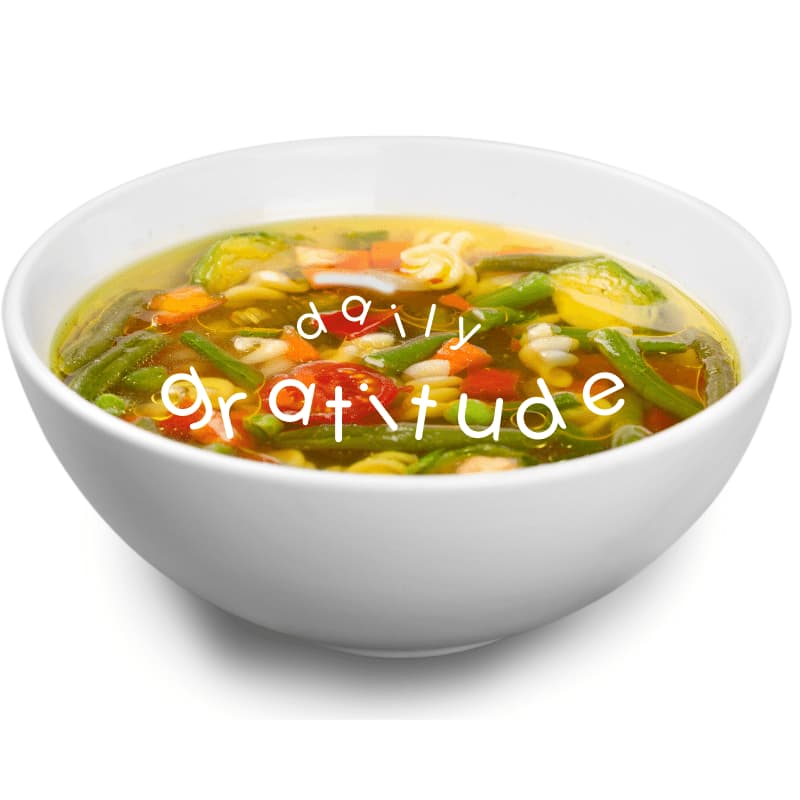 If your gratitude practice has (understandably) fallen by the wayside…
If you have missed gathering with me and other cohorts in the spirit of gratitude…
If you were intrigued by the philosophies of Universal Law the first time around and want to learn more…
Or are looking for a way to self-soothe & re-focus…
The time is now to resuscitate your practice with
The Grateful Jar Collective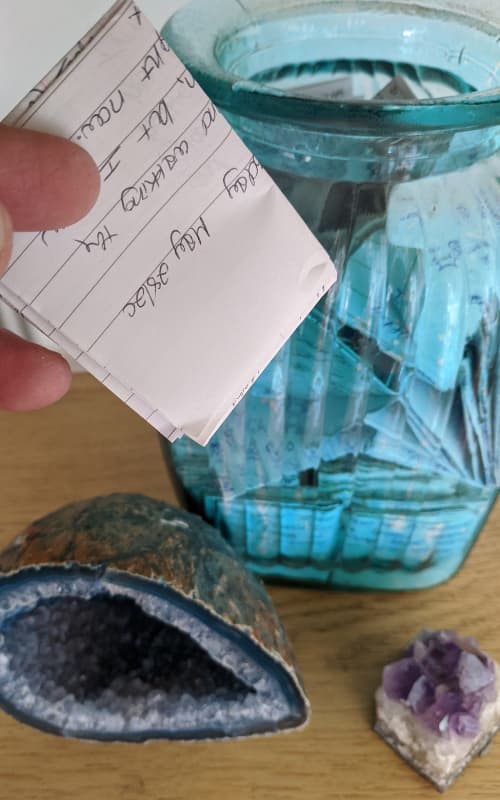 reconnecting with many of whom you connected with during your first Grateful Jar program!
reinforcing your daily gratitude practice for the rest of the year so that you experience greater hope, possibility and joy! 
not being constrained by a 'gratitude comfort zone' by continually broadening the possibilities of where you can find gratitude!
engaging regularly in soulful conversations so that you increase the amount of uplifting people in your life and expand your sense of community! 
honouring the energies of the sun as it progresses through the sky so that you embody natural cycles and strengthen your connection to the unseen!
deepening your awareness and compassion for yourself so that your wellness becomes non-negotiable.
embodying "this or something better" on a daily basis so that you are a magnet for possibility! 
Daily gratitude has been scientifically proven
to increase resiliency to traumatic events
Here's How The Collective Flows…
Be guided to take your gratitude practice to new entirely new depths as you explore themes based on the energies of the sun's current astrological placement with the release of a new pillar of gratitude every 30 days. 
Embrace lunar energies with gratitude prompts released every three days specifically harnessing the moon's journey across the sky 
Increase the amount of positivity when on social media with the exclusive Grateful Jar Collective community!
Expand your own spiritual wisdom by exploring a new Universal Law each month and learn how to tangibly apply it in your own life.
Nourish your spirit and connect with others on the journey of gratitude through our live Zoom sessions every second Sunday morning (10am Pacific)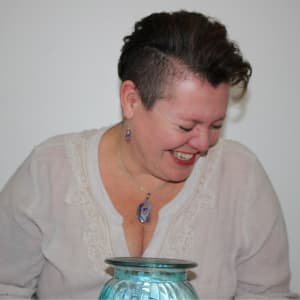 Heart Centered Leadership
Krystin powerfully holds true sacred space as she vulernably shares her own experiences and lessons learned within the Grateful Jar journey.  Her life coach and counsellor training is evident in the nest of safety and compassion she creates for participants.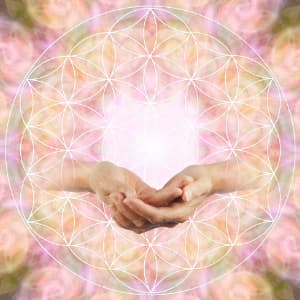 Join me every second Sunday for a guided discussion relating to the Grateful Jar practice.  These rich conversations are a co-created experience unique to each session and who is in attendance and are sure to nourish your spirit and breathe hope into your heart!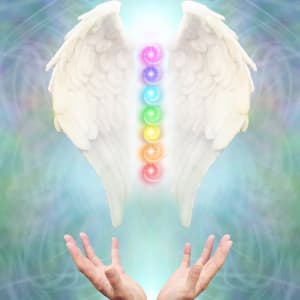 Expand your possibility of gratitude with monthly pillars based on the Sun's progression through the sky and connect with unseen natural cycles in ways you never considered!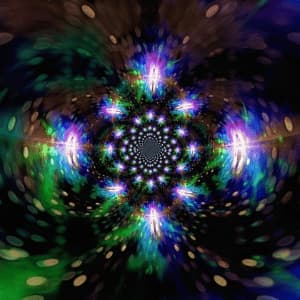 An Introduction to Universal Law
Each monthly pillar introduces a new Universal Law for you to explore and playfully implement within your own life and embrace deliberate creation.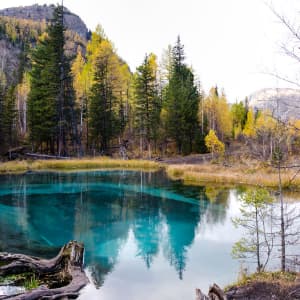 You will have immediate access to nine gratitude meditations, as well as an intimate drum journey for your own exploration.  Deepen your own meditation practice with new guided meditations facilitated monthly!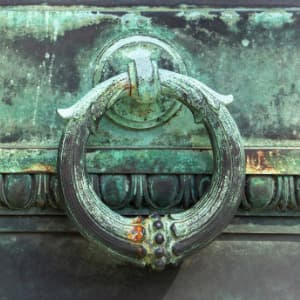 To the most recent recordings of the nine Grateful Jar modules.   That's more than ninety minutes of material including what is new content for many previous participants.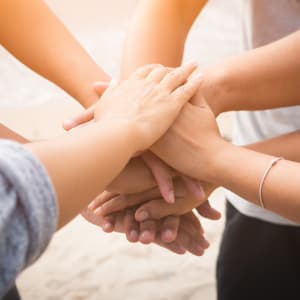 Access to an exclusive online group, plus bi-weekly Soulful Sunday sessions that are co-created discussions.  The number of uplifting and amazing people in your life is about to increase!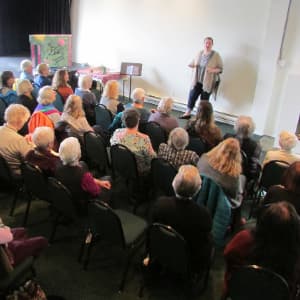 Having maintained her own daily Grateful Jar ritual for more than five years, Krystin has truly mastered the art of appreciative living.  You will be guided, encouraged and supported, during the ups, the downs and everything in between! 
Join me to harness new cycles and deepen your commitment to gratitude each month.
If you haven't circled or sat in ceremony with me before, then you are in for a real treat!
As physical reality continues shifting rapidly
imagine the RIPPLE EFFECT of a group of people
deliberately emitting thoughts of gratitude and appreciation!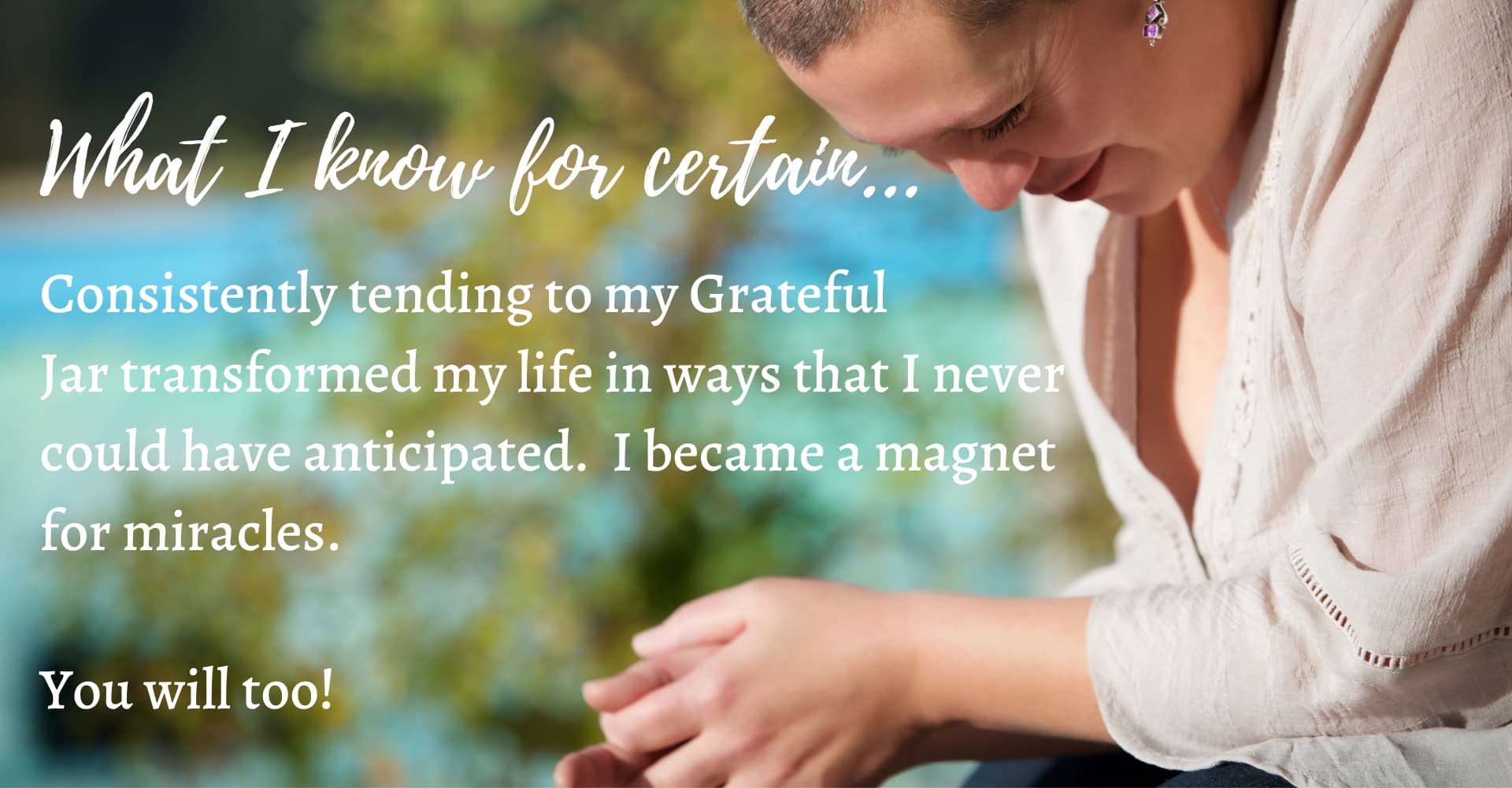 Picture Yourself, December 21st…
Winter Solstice.  
The darkest day of the year in the Northern Hemisphere.
Soft music is playing, you've lit a candle and have curled up in one of your favourite spots with a mug of something decadent at your side.
You have created the time and space to pause; unfolding each of the grateful notes as though it were a gift unto itself.
Reflecting.
Laughing.
Savouring.
Sharing.
Basking in appreciation!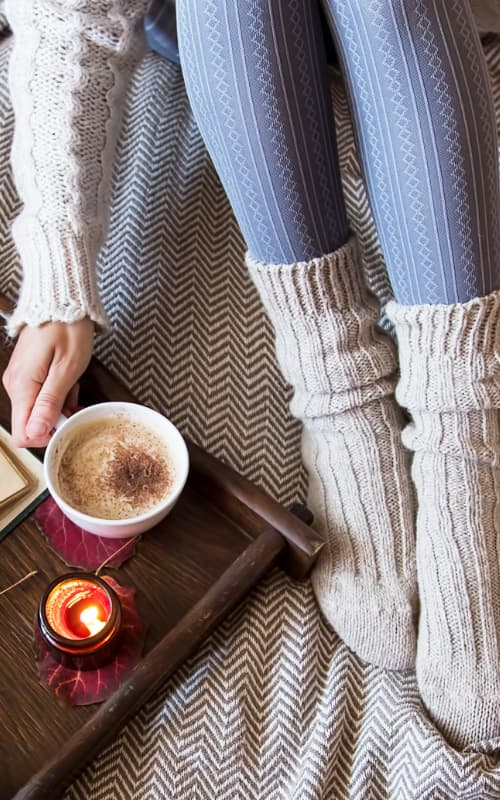 Marinating in memories of gratitude, growth and transformation. 

Priced in CAD or USD based on your location.
This price will never be offered again.  
Frequently Asked Questions
We connect via Zoom every second Sunday at 10am (Pacific) for sixty minutes.  Don't worry if you can't make it, these calls are recorded and replays sent out.
How long will I have access to the materials?
You will have access to the module library, meditations and online community for as long as you choose to remain a member of the Grateful Jar Collective. 
How much time is required?
The recorded modules last anywhere from approximately ten to twenty minutes.  The meditations can run anywhere from 10 – 20 minutes, and our biweekly calls are an hour long.  Plus fifteen mindful minutes each day as you pour your gratitude onto the page.
Will I have direct access to Krystin? 
YES! You will have direct access to Krystin during the biweekly live calls and through the online community.
Am I able to have 1-on-1 access to Krystin?
Yes!  Should you wish to connect one-on-one, individual sessions are available at $150/hr.
This opportunity is available exclusively to previous participants of a Grateful Jar curriculum, as such, new members are always welcome to the collective upon completing a previous Grateful Jar course.
I am an introvert and am hesitant about the online community. 
The program is designed for you to engage as much, or as little, as you'd like.  I invite you to show up exactly as you are! Please know that previous participants have described my groups as "a nest of safety, empathy and compassion". 
It is my commitment to honour your time, your energy, and your capacity. 
What is your cancellation/refund policy?
Any collective membership cancelled before the end of the month, will not be billed for the next month's membership. Monthly membership fees will not be refunded or pro-rated.
If you are wondering if this is a fit for you,
or if you have any other questions,
please email me at:
krystinclarkcreates@gmail.com