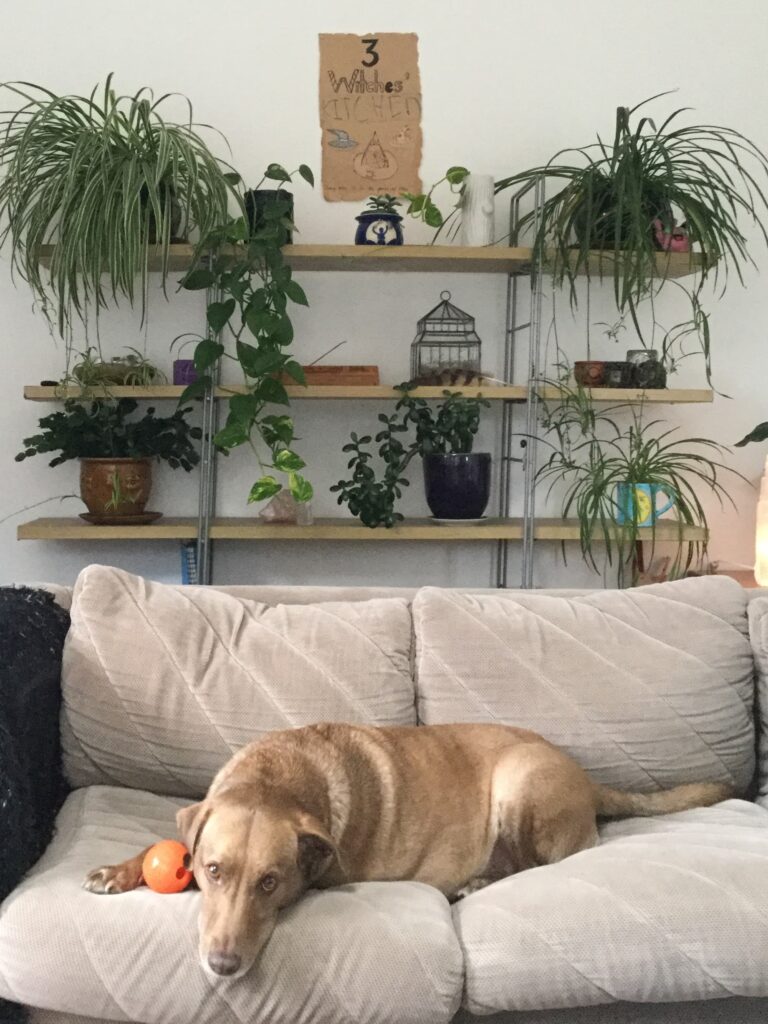 At the beginning of every virtual ceremony, every astrology reading, every wedding consultation, I offer a disclaimer,
"My dog will do her best to cooperate and hold the space- but if anyone knocks at the door, &#$% is going to get real- real quick!"
Tonight was the first time I began a session without that disclaimer.
Yet, she was helping create and hold sacred space in powerful, powerful ways.
Thank you to those who heeded the call to gather with me to bask in (and harness) the Leo New Moon.
Together, In Ceremony, We:
-invoked the four directions, the elements and our ancestors, connecting with all other circles gathering tonight
-witnessed one another, our realities, our hopes, and what we are calling in as our experience throughout the next lunation. Joining our energies as one to magnify our intentions
– joined together in a visualization accepting healing for ourselves before moving it through our own bodies along to our neighbourhoods, towns, province/state, country, the world and then cosmos at large
– dove into the astrology behind the New Moon, so that we had better understanding of HOW to harness it within our own intentions
– embarked on a journey of connecting with our own innate wisdom, rather than looking for guidance from around us.
Thank you, Beauties.
For your presence, your honesty, your depth, and your love.
Thank you for co-creating an evening infused with Oneness, drumming, poetry, song, reflection, ritual and celebration, and supporting me of moving through the depths of grief I've never experienced before all the while facilitating.
Deeply, deeply grateful.
The next New Moon Healing Ceremony is scheduled for Thursday August 25 at 6:30pm (PDT).
If you are interested in participating, or learning more, please check out the link in my comments. Space is limited to 8 participants.
Thumpity thump thump…
Thumpity thump thump…
Beats my raw (yet still grateful) heart.
Happy New Moon!