Would you like to create more joy in your life?
Want to experience more heartfelt presence throughout your day?
Imagine savouring what each day brings.
Envision yourself going to bed at night filled with contentment and feeling full of hope! 
A daily gratitude practice is powerful medicine
Did you know daily gratitude practices have been

scientifically proven

to:
reduce stress

lower anxiety and depression

increase optimism

amplify hope

lessen physical aches and pains

intensify vitality
The biggest hurdle in establishing a daily gratitude practice is remembering to do it.
7 Grateful Days supports you in developing and maintaining your own daily gratitude ritual.
Learn more about the benefits of a daily gratitude practice, discover how to amplify the benefits and be provided with prompts to help you uncover your own gratitude throughout the day.
7 Grateful Days … I hope you'll join me. 
When I first met Krystin I could sense her immense wonder at life. The workshop she led gave me a new appreciation and perspective on holding a gratitude practice. She invited us to show up exactly where we were and gently guided us to consider to notice what is around with new eyes.  She has truly mastered the art of appreciation and I am so grateful to have learned from her. A wonderful experience even for those who have a regular practice.
I was inspired by one of Krystin's talks last year & started my grateful jar on the winter solstice 2018. I am so grateful I heard her speak & took up this practice. My world is changing by the moment and each passing day. More and more grateful as I breathe, pause & reflect.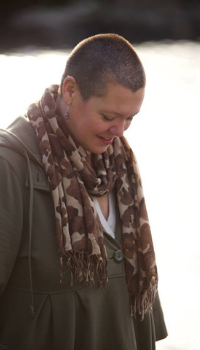 Krystin is an uplifter to her very core. Passionate about empowering people through mindfulness and gratitude, she believes ruminating about our problems and stressors is one of our most profound addictions.
"Our words have power, that's why it's called spelling!"  Krystin's eyes sparkle as she drops that nugget of wisdom. 
"What we think, the emotions we feel, and the words we speak create our day to day reality. Somehow we disconnected from realizing this"
An 'independent parent' for more than a decade, Krystin has journeyed from barely surviving (friends used to call her Eeyore), to creating a life ripe with love, happiness and abundance.  A transition she attributes to radical daily gratitude. 
She is the best-selling author of The Grateful Jar Project available on Amazon and bookstores across British Columbia.